March 4-10th is official "Read an eBook Week!"
What's "Read an eBook Week?"
The week is an annual international celebration of eBooks. It was started all the way back in 2004 by Rita Toews, a soft-spoken mother of two and grandmother of one.
Not only does the event raise awareness of the eBook in all its glory, it brings together eBook retailers, publishers, authors, device-makers and untold thousands of readers.
Did I mention the discounts?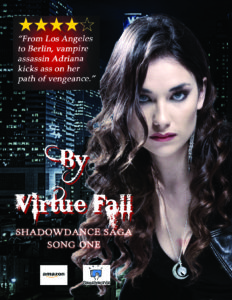 Everybody gives discounts during the week, from twenty-five percent to free.
For my part, the "Shadowdance" Variation short stories are always free. For "Read an eBook" week, I'm giving a half off discount on the two "Shadowdance" novels, "By Virtue Fall" and "For Her Sins."
These discounts will ONLY be found at the Smashwords site, so check them out there.
Wait… what's an eBook?
Remember those old things you found in libraries or stores and they had all those words in them? Those are books. They're still around, but technology has lead to a new version of those books — the electronic book, or eBook.
An eBook is read on a digital platform, be it a computer monitor or a tablet. Amazon was big on proprietary software with their Kindle eBook reader. Barnes & Noble also got in on the game with their Nook.
Both ended up with apps that worked on each other's platforms.
Epub vs Mobi
About those proprietary formats.
B&N Nook went with the epub file. Amazon went with what translates to the mobi file. You can't read one on the other.
Not too much of a big deal when you download eBooks from their respective stores. The problem comes up when you have one of the apps and you download from a third-party site like Smashwords.
Just remember the above: B&N Nook app needs an epub file, Kindle needs the mobi file.
FYI – if you get the eBook as a PDF file, both apps will read it.
If you download an eBook from a third-party site, be sure to install the file in your eBook reader app's folder. It will automatically load in your reader on the next opening.
Book, eBook… what's the difference?
Obviously, there's the physical versus digital difference. But there's so much more.
An eBook replicates the physical book, words, images, tables and all. What an eBook can give you that a physical book cannot is the magic of hyperlinks — those different-colored slices of text that bring up websites via a click.
Through the magic of hyperlinks, you can enhance your reading experience. In my "Shadowdance" action/ urban fantasy eBooks, I place hyperlinks to important background info.
Click on the name of a character and an organization, you'll flash to the saga's website. There you'll find background on that specific element of the story, thus enhancing your reading experience.
It also helps remind you what's going on when you come back to an eBook after a long respite. C'mon! I'm not the only one who flips between books and takes a while to get back!
Where to find these eBooks
eBooks are everywhere. Amazon and Barnes & Nobles are the kings, but there are a variety of other sites like Kobo, Apple's iBooks, and GetFreeEbooks.com.
An overlooked source of free eBooks is… gasp! Your local library. Check your library's website; using your library card, you can digitally download eBooks for use over a few weeks just like you'd do for a physical book. They mostly keep up newer books like the New York Times bestsellers, but… FREE!
The "Shadowdance" saga has a home at Smashwords.
Show love for indie authors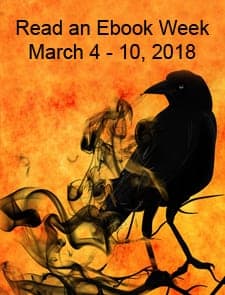 While you're getting your eBook on, try to find a new indie author to show some love. It's hard out there for a pimp — er, indie author. We have to compete with the deluge of noise from the NYT bestseller crowd as well as other authors like us.
Smashwords and GetFreeEbooks are great for this.
Be sure to write a review too. These help other readers like you find the better books, and it really helps the authors get their presence out there.
Enjoy!
For more info on the lady who started it all, Ms. Toews, check out this interview.