Welcome to author Mark Wooden's all-new (mostly), all different (definitely) "Thoughts from the Shed" blog. Here you'll find pop culture news and commentary as well as updates to the "Shadowdance" saga.
All served with a side of snark!
(NOTE: Updated in the Year of Our Pandemic 2020)
Why a blog?
Because every writing resource says you should have one, honestly.
I never understood why until I realized the difference between, say, an author published by Berkley or Tor and a self-published author like me: Tor authors get money for advertising and a staff to control it.
(Though some argue lower tier published authors still do the lion's share of publicity, still. I can't get in Berkley or Tor's catalog of published authors, they can. Good for them, more work for me.)
Um, it's just me folks. And the dog, but she sleeps all the time. And, unfortunate update, she passed a year ago.
So yeah, just me.
How do I find potential readers and/ or employers for my video skills? I make friends! But how to make friends? How about the old fashion way: introduce myself and share info and insights about stuff we all love.
Hence, a blog as the perfect place to do that.
Still know nothin' 'bout me
I'm sure you looked at the "About" page already. If not, I'll wait.
…
…
Here are some more things to know about yours truly.
I'm not just heavy into TV, movies and comic books. I'm also a fan of Sting (musician, not wrestler; did ya catch the heading above?), Prince, Garbage, pop dance tunes and a bunch of other musicians.
I also tend to speak that which others think, but are too afraid (or too tactful) to say aloud. Those words are also unfiltered (obviously).
Hence, "Thoughts from the Shed."
Learning what makes pop culture pop
There are nearly an unlimited amount of sites you can hit to find out if some keyboard cowboy thinks a creative work is "good" or "bad."
I'm less concerned with something being "good" or "bad." I'm more about learning how the creators captured the hearts and minds of their audience. I'll find something redeemable in even the shittiest movie.
I mean, "Batman v Superman" had Wonder Woman, right?
(Yeah, that was four years ago but I will still kick a movie while it's down!)
In the "TFTS" blog, I'll share those insights into why I think a piece of art worked or didn't. Sometimes, art fails to capture an audience. I'll figure out why that happened too.
My posts on media will read like an autopsy. As a kid I always broke things apart to figure out how they worked.
Probably why I ended up as a video engineer despite my dislike of technology.
I'll touch on the big blockbusters, but my focus is mostly on the forgotten gems or the ones you never heard about.
Think of me as that crazy uncle who brings that really cool birthday present you didn't know you wanted.
Not gonna lie: for a writer, I don't read much fiction. You won't see many (if any) book reviews here. It'll be movies, TV, and the occasional comic book.
Writer tips and commentary
I will drop what knowledge I gain about the writing process. I'll share what inspired me and why. I'll let you know why I crafted certain elements of my fiction the way they're ultimately presented.
I'm also gonna let you inside the scary place that is my mind. You'll see the creative process as I continue with my works.
The state of the Shed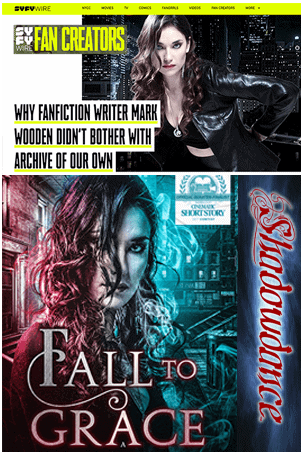 I was working on the third "Shadowdance" novel, "Illusion of Love."
Friends (can we be friends already?), it's kicking my butt. Lots of moving parts. I'm hanging in there, cuz I believe in this story. It's gonna rock.
Literally.
Meanwhile, I dragged a prequel novel out of a drawer (in my mind) and am working that up. It's fits and starts as I'm also trying to find a job. The pandemic has wiped out my live events industry.
Finding that job includes overhauling my website, which has become a job unto itself! But like raising children, it's worth it?
I anticipate finishing the bulk of the website work at the end of this week. Then I'll get back to some writer commentaries and my novel.
I'm also learning how to write a TV pilot. I'll share that experience when I get it done.
Until then, true believers, check out the rest of the site. You'll find my SYFY Wire Fan Creator-famous fanfiction, blog posts, and info on the short horror film I have on Amazon.
More on the way!
Stay safe out there. Stay home. If you have to go out, wear a mask. Don't be a Karen.