Mark went to New York Comic-Con y'all! (2 of 2)

New York Comic-Con! It was my virgin trip. Here are more experiences. Maybe they'll inspire you to make the pilgrimage yourself.
Note these are just the things I did. There's much more to the comic-con than I could cover, even in three days.
Comic-con: Artist Alley
In yesterday's post, I talked about signings. All those happened in Artist Alley, where solo artists hang out to meet their fans. You'll find up-and-coming artists alongside the titans of the industry here.
Artist Alley is but one of many attractions at the comic-con. The biggest attraction is the Show Floor.
Comic-con: The Show Floor – Merch
Here folks of all stripes sell their wares to the comic-con fanbase.
I'm told this thing is a Gundam. I recognize it from the anime. Sideshow Collectibles was also in the house.
There was another collectibles area, where I found the cool items below. I'm a bad journalist in that I didn't verify the vendor, but enjoy anyway.
Facebook was also in the house with original content, this time some sort of horror movie thing called "The Birch." Tell me how you like the preview.
Comic-con: Comic book dealers
Comics publisher Oni Press was in the house. Did you know "Stumptown" was a comic book? Sure is, from comic book legend Greg Rucka.
I also met the folks at Stranger Comics. They publish a series of fantasy comic books that borrow from both European and African mythology. The tales center on the character Niobe.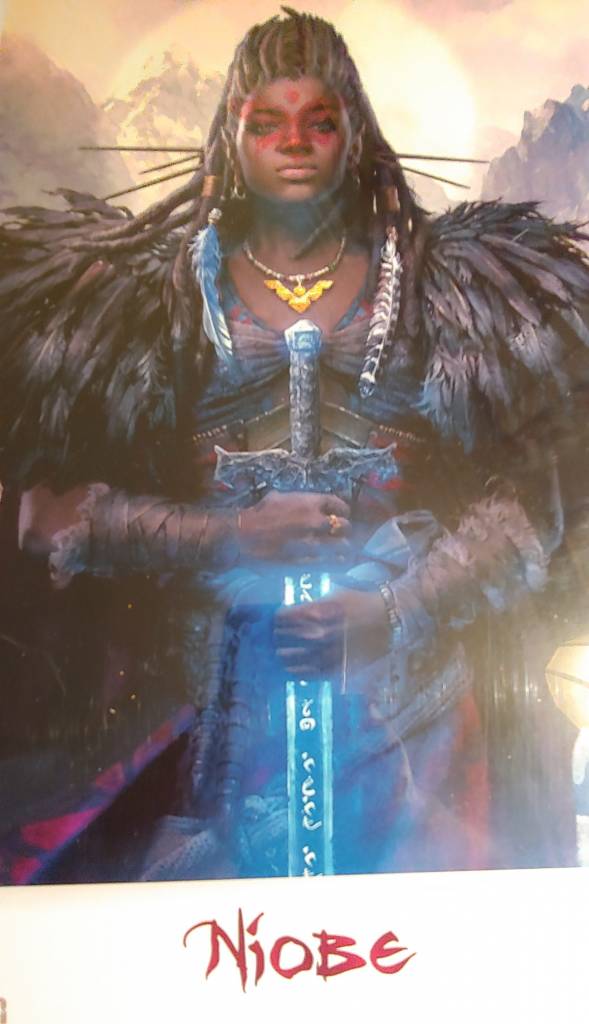 Most impressive is that after thirty-some years pursuing their dreams, the Stranger Comics team has a deal with HBO to develop their world into a new series for the cable giant.
The big boys of Marvel and DC Comics were also in the house, as well as Image, Boom! Studios, and Dark Horse. I missed them as I was hanging in Artist Alley and hitting panels.
I did, however, stop to say hello to Darcy Van Poelgeest, writer of the "Little Bird" comic book. Man, that book is killer! If you're a fan of "Saga" and hate oppressive religious regimes, that's a book for you.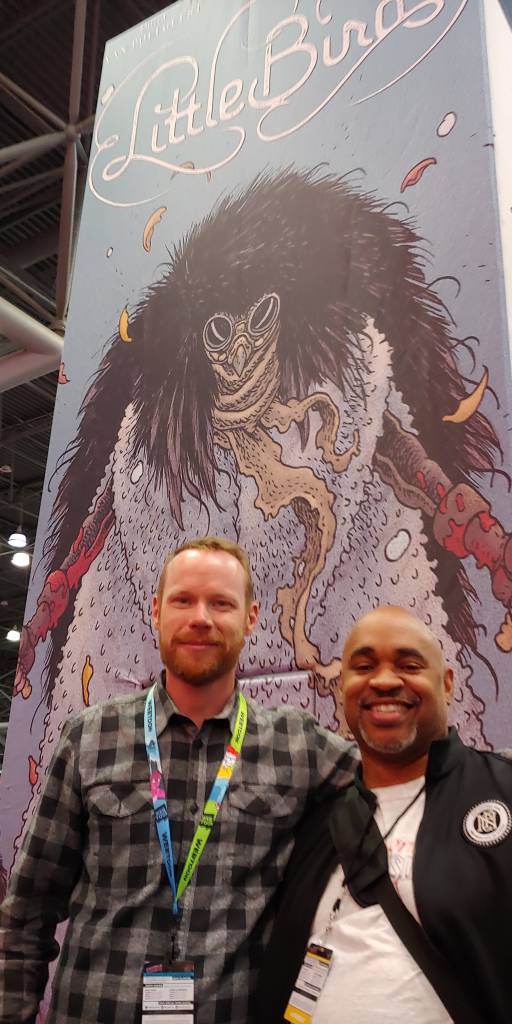 Mr. Van Poelgeest was a documentary director in a past life. His work with Canadian aboriginal tribes influences his comic book.
What's a comic-con without cosplay?
Cosplay, or "costume play," is yet another cornerstone of comic-cons. Lots of other sites will present better pictures, so I steer you toward them.
However, I did grab these two.
Comic-con also had Hollywood
Maybe not as much as San Diego Comic-con's infamous Hall H, but Hollywood was in effect. There was the main stage as well as satellite theaters. I didn't play the Hollywood game (much).
SyFy Wire had a stage on the Show Floor. they ran interviews and such. I caught the one with the cast of "Wynonna Earp."
That show is the most direct heir to the "Buffy the Vampire Slayer" throne with its quirky humor and strong female cast.
You can check out some of the panels at the SyFy Wire site.
CBS All Access was also in the house with a look back at the worlds of "Star Trek" and some info on the upcoming "Picard" show.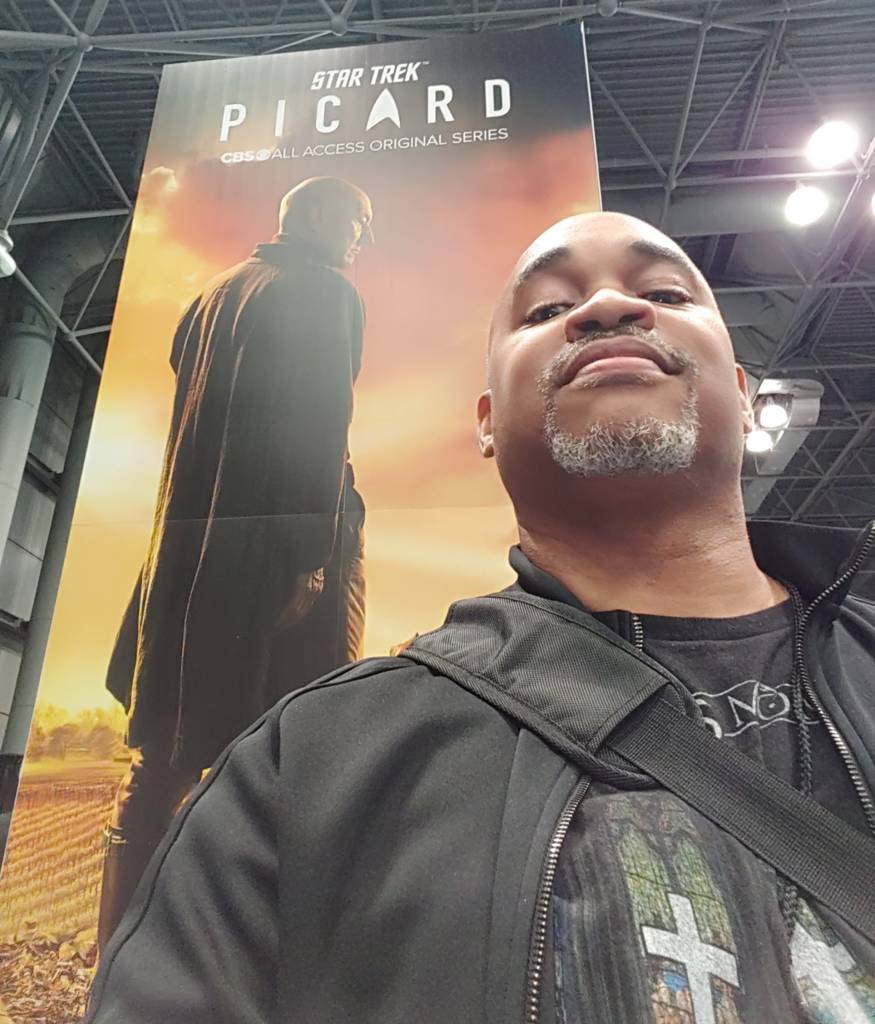 Back in college when I was the editor of the newspaper, I had a Captain Picard poster across from my desk. When in doubt, I'd ask, "What would Picard do?" You know I'll find a way to watch his new show.
Other hits from the comic-con
Any of you who've read my "Shadowdance" stories can see how much the character Elektra Natchios has influenced my storytelling. I told that to the man who drew this image —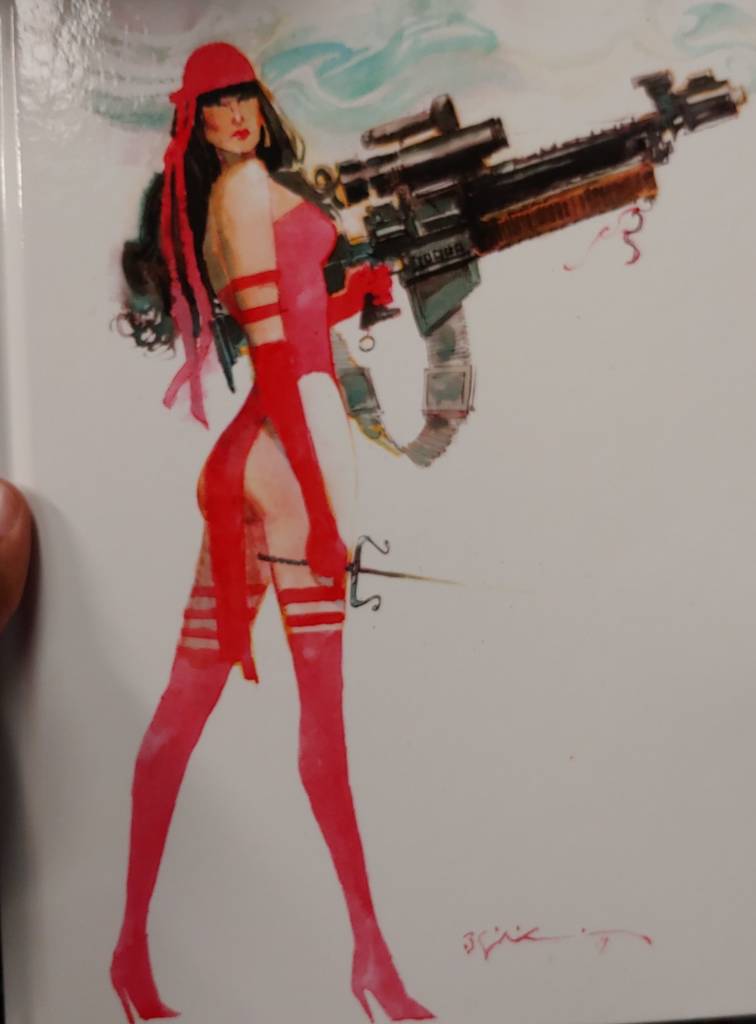 Bill Sienkiewicz. He appreciated it and wished me luck.
There was a big outside display for the movie "1917."
It's advertised as a movie from "the director of 'Skyfall.'" They know he also directed the shitty "Spectre" movie too, right?
Panels, buildings, but that's all, folks!
I attended some panels, mostly on writing, diversity and dealing with POS fascists in fandom. Still going over my notes on those. I'll get something up next week.
Well, that's the bulk of my activity at the comic-con. Except for some building shots. If you're into that sort of thing let me know and I'll post some up.
My big takeaway from New York is it's a great opportunity to meet your idols and see how the professionals maintain their careers. You'll learn some things and get energized to push forward so you can be at the table.
Or, you can bask in the glow of all the merchants who want to sell you things. Which is everybody, including the artists (show BUSINESS, not show ART, remember?).
Nothing wrong with the latter. I fall prey to it too. But that's what a comic-con is all about. All that matters is that you enjoy the hell out of it.
Which, of course, I did.
And a final shoutout to my man Tim Pandekakas. He and his fam opened their home to me which is what made the stay up there possible. Big thanks, my man!