So I finally bit the bullet and made the pilgrimage to New York Comic-Con (NYCC 2019) this year. I'd been to San Diego's con but with an industry friend so I saw cool VIP stuff.
Despite not having the inside track. I had a blast. I met many of my idols (and hopefully, one day, my peers), did some networking and bought lots of cool artwork. Perfect for my inspiration wall!
Now it's show and tell time (in no particular order)!
Entering the comic-con
Before I even got inside, there's the advertising. Wait. Is that the queen Regina King in "Watchmen?" I may actually watch that now… if I ever get HBO.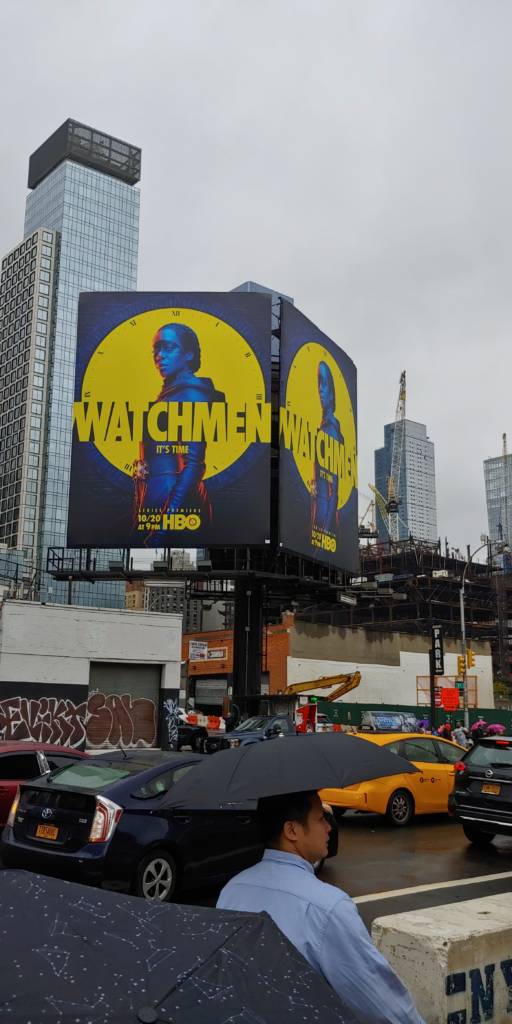 Friends wanted me to check on some Funko thingees for them. I heard that even when you showed up for your appointed time to shop, it was still a two-hour wait. Funko that! I had people to see! Sorry, folks.
The "Hunger Games" reveal
The above pics are the before and after reveal for the new "Hunger Games" novel. When they did the reveal, I was standing next to a guy who said, "They had that hanging up yesterday."
Damn, I love my peeps but sometimes we can be so dumb.
Man on a comic-con mission
I had three missions for comic-con:
have Frank Miller to sign my "Daredevil" issues featuring the first appearance of Elektra Natchios and her death.
get Chelsea Cain and Joelle Jones to sign my "Mockingbird" issue with the infamous "Ask me about my feminist agenda" t-shirt
also, get Joelle Jones to sign my "Lady Killer" first issues
Dammit! I was only there for three days (Thursday through Saturday). Frank Miller was only there on Sunday. Scratch that off the list!
However, Ms. Cain and Ms. Jones were there Thursday, so I prioritized getting their signatures. To my great surprise, I had two more creators involved with "Mockingbird" and "Maneaters" at the con.
The first was Rachelle Rosenberg the colorist for "Mockingbird" and "Maneaters." The second was Lia Miternique, the graphic designer behind all the great satirical ads within "Maneaters." I got their signatures too.
Heh. There was a funny moment as I went racing about Artist Alley hunting each of them down.
Wait? Why are "Mockingbird," "Lady Killer" and "Maneaters" so special?
"Maneaters" tells the story of a world in which menstruation causes girls to turn into panthers that kill people. The patriarchy turns women into objects to fear.
That cute little girl on the "Maneaters" poster plans to bust all that apart.
Did I mention the series was nominated for an Eisner this year? Seriously. You need to check out that book. "Maneaters" trade paperbacks are available.
"Mockingbird" follows the Marvel Comics character from the Avengers, looking at her solo life in the first arc. The second deals with her relationship with Hawkeye, the man who recently murdered Bruce Banner/ the Hulk.
The "feminist agenda" shirt created controversy among the caveman/ ComicsGate crowd because they felt Marvel forced feminism on them. As if any of those clods were reading "Mockingbird" anyway.
Both "Mockingbird" arcs are available as trades.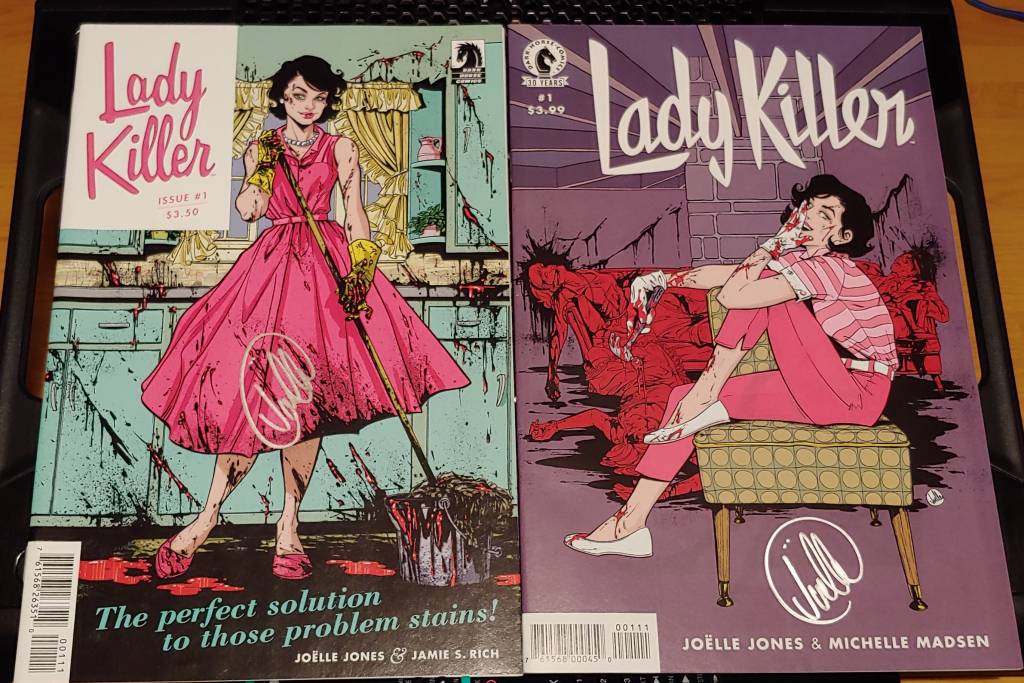 "Lady Killer" asks, "what if the supposedly docile American housewife of the 1950s were actually a ruthless assassin?" Hense the blood all over those covers. You can pick up a "Lady Killer" book here.
End product placement.
Other Artist Alley comic book hits
It's hard to follow the man who created a character, especially if that man is Brian Bendis and that character is Miles Morales, a.k.a. Spider-Man.
However, Saladin Ahmed and his team are killing it. I told him as much at the comic-con. Seriously folks. This is the Spider-Man to read, especially if you loved "Into the Spider-Verse."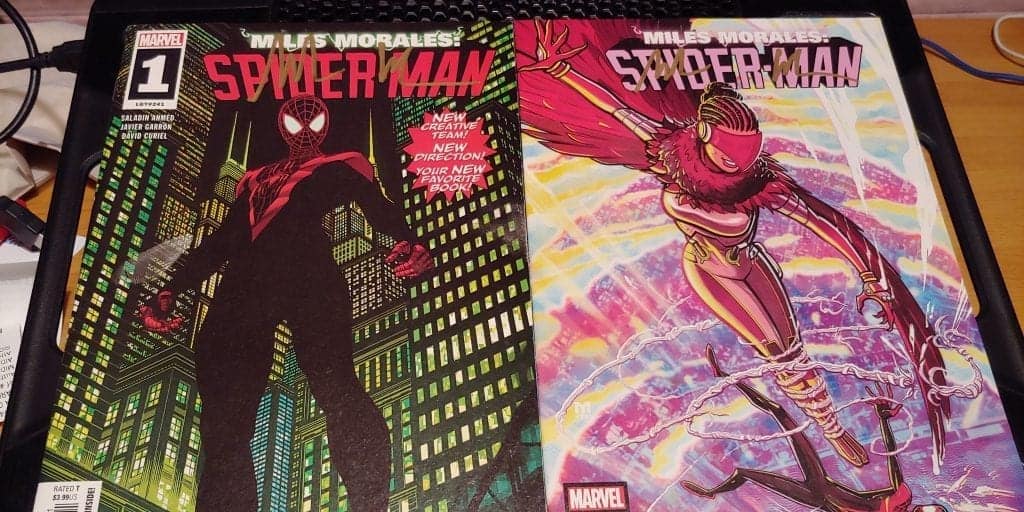 I'm an old school nineties comic book fan. Sure, those books were mostly more flash than substance, but some great ones did exist. One of those was Top Cow Comic's "Witchblade."
One of my favorite runs of that book was drawn by Francis Manapul. He's all big-time at DC Comics now, but I remember when.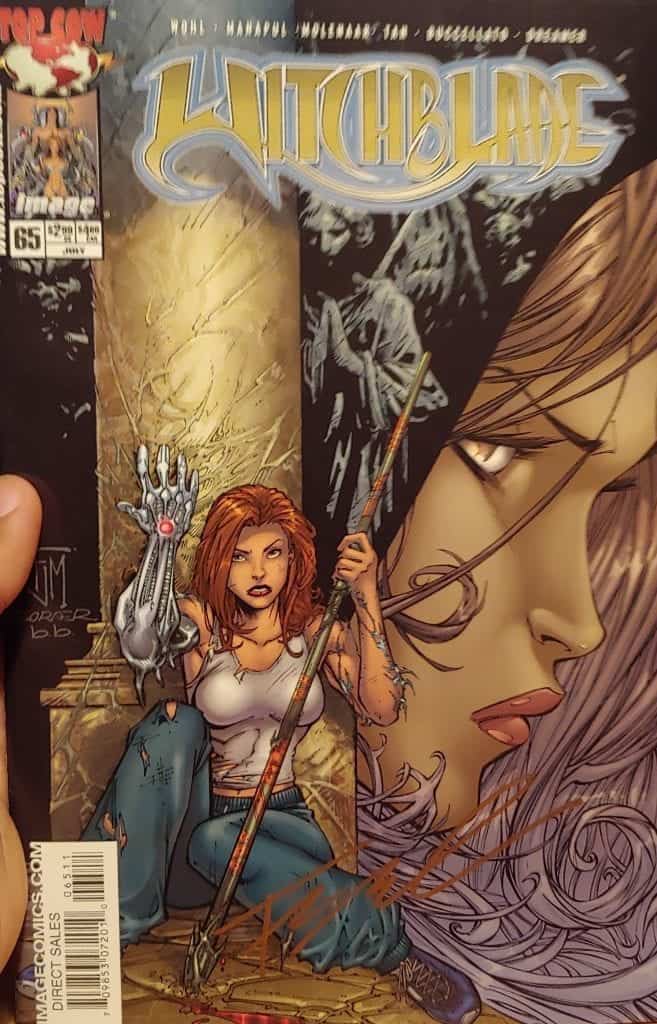 And who can forget the queen – Gail Simone
I'd come armed for the comic-con with a copy of "Crosswind" for Cat Staggs to sign. I had a great conversation with her about the book, its prospects as a television show and internet memes she created for Twitter based on the movie "Airplane."
To my surprise and delight, her "Crosswind" co-creator Gail Simone was also at the comic-con.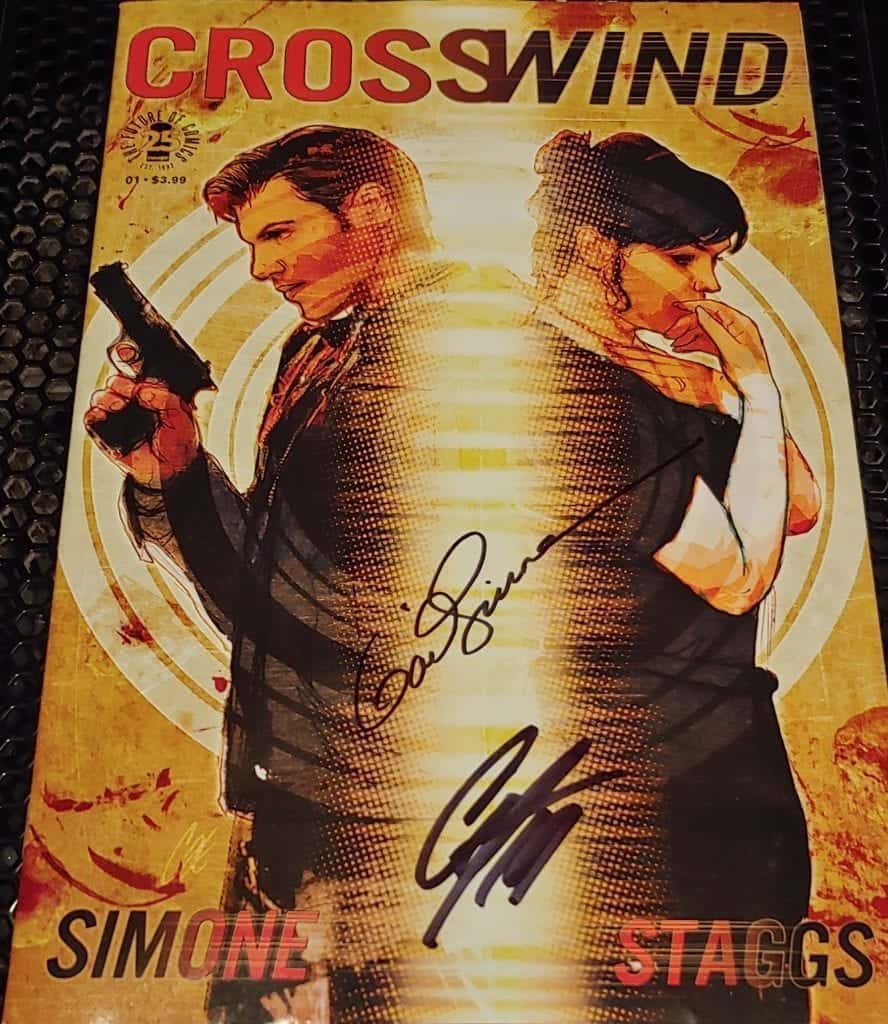 I've followed Ms. Simone since her run on DC Comic's "Birds of Prey," following her over to the New 52 version of "Batgirl" and other projects. I've learned many a thing about writing from her work.
By the way: "Crosswind" follows an assassin and a housewife who are body swapped. Now they each have to deal with the others' problems, all while getting used to living in a differently gendered body.
Ms. Staggs and Ms. Simone will both be involved in the television show's production. Ms. Simone noted that while she will write scripts, she won't be the showrunner. That requires a set of skills she didn't want to touch.
That'll do it for the first part of my trip to New York Comic-Con. Tune in tomorrow for the second part of my trip.