Once again, time for some music that inspires! Welcome back, #MusicMonday peeps! Been a bit with work and the SYFY Wire profile, but let's get to it, shall we?
Following up on my vampire pop princess, here's a dash of Nine Inch Nails and their song, "The Wretched."
A bit of Nine Inch Nails history
Nine Inch Nails came out of the industrial rock wave in the late 1980s. It's really one man — Trent Reznor.
Despite what fans would like to believe, Reznor didn't name the band for the nine-inch spikes that crucified Jesus nor anything to do with Freddy Kreuger's killer glove.
No, he called the band Nine Inch Nails because of the ease with which he could abbreviate the name if necessary — NIN.
Reznor started at the bottom as an assistant engineer in a Cleveland studio. He recorded his demo album during times when the studio was empty.
Unable to find musicians who could capture the sound he wanted, Reznor pulled a Prince and played everything himself, save the drums.
The result was the 1989 album Pretty Hate Machine, which spawned a load of hits. You probably remember the same ones I fell in love with, "Head Like a Hole" and "Terrible Lie."
Nine Inch Nails had this raw, angry, driving sound with a hint of pop sensibility. It was something my Prince and 80s pop-loving-self hadn't heard at the time.
I, and most of the world, totally dug it.
"Closer" and "Se7en"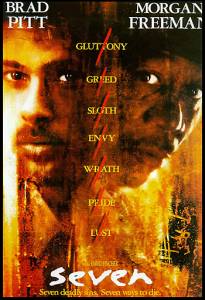 Where you'd really know NIN from is the 1993 hit "Closer," from The Downward Spiral album. You definitely remember its profane hook, "I wanna fuck you like an animal."
MTV (when it played music videos) played the shit out of the censored version of that song. A remix turned up in the title sequence of David Fincher's classic "Se7en."
"Se7en" was a big influence for me, though I initially disliked the movie. That was because I was so damned jealous that Fincher had reached into my head and pulled out the movie I wanted to make.
I've since gotten over my ego and bow down (see what I did there?) to the film's mastery.
I also bow down to the merging of Reznor's dark mood music with the visual elements onscreen. I had just started formulating the "Shadowdance" saga and saw how industrial music, and Nine Inch Nails in particular, could enhance that world.
The Wretched pop princess
I'd always known music would be central to the "Shadowdance" saga (you can read about that here). Something like Nine Inch Nails would be a part of that.
And then The Fragile dropped in 1999. It brought the song, "The Wretched."
I'd already decided on molding my vampire pop princess on Christina Aguilera's Xtina personality. But I didn't want to go too "poppy." I also wanted some Marilyn Manson-type theatrics.
(Yeah, I know bands like Black Sabbath and Kiss did that stuff decades before Manson, but I grew up on Manson so there.)
Like "Head Like a Hole," there's always been a hint of pop in the background of some Nine Inch Nails songs. "The Wretched" instantly meshed with my vision of a goth, vampire, pop princess.
As the song drones in its misery, I could see Christina — er, Valentina, slinking across the stage. Semi-nude dancers in the background; dim lighting with an orange hue.
Add to that Valentina using her vampire ability to control a listener's emotions driving the audience into a morass of depression and pent-up anger.
It was the rock concert I'd always imagined… and will include in the second trilogy of my "Shadowdance" saga, tentatively titled Illusion of Love.
More on that in a spell. For now, enjoy "The Wretched."